Korea easy drop toilet brush
$9.90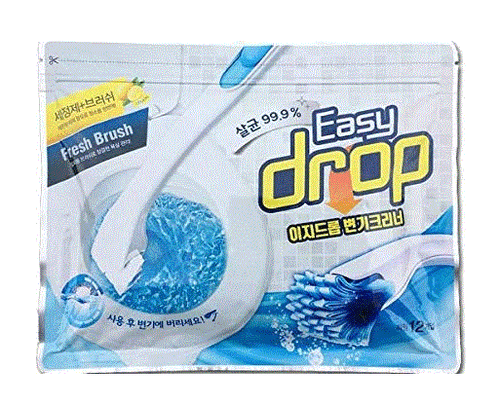 No Chemical(detergent include)
No Gloves(just use hand stick)
No bad smell(lemon smell)

TOILET CLEANING SYSTEM
: Add this toilet bowl cleaner to your cleaning supplies including 1 Toilet Wand and 12 disposable Toilet Wand refills that kill 99.9% of bacteria and viruses

DISPOSABLE SPONGES
: These toilet scrub pad refill heads click onto the ToiletWand to swish, scrub and clean the toilet bowl and conveniently pop off to throw in the trash

DISINFECTING CLEANER
: Preloaded with cleaner, these disposable scrubbing pads deep clean and remove stains while eliminating germs to make your toilet bowl feel like new

BATHROOM CLEANING PRODUCTS
: Eliminate the need to store a dirty, germ-ridden toilet brush with the convenient caddy that stores your Toilet Wand and refill heads for an all-in-one bathroom household cleaner

TOILET SCRUBBER
: The square shaped sponge heads clean in hard to reach places under the bowl rim and drain for a deeper and faster clean to remove rust, calcium and lime stains
40-fold compressed pulp brush. Containing detergent with lemon. Sterilization 99%. When it meets the water, the blue detergent is released. Put the used brush into the toilet and just flush the toilet.
The disposable pulp brush that dissolves in water is discarded in the toilet after use. (Only one at a time throws it in the toilet.)
Do not need to touch the pulp brush with hand.
If you the brush in the water, the detergent will be released immediately.
It was designed to be easily wiped to the inside of the toilet.